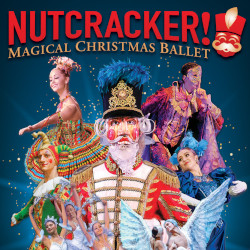 NUTCRACKER! Magical Christmas Ballet
This Christmas, bring the whole family back to a simpler time with NUTCRACKER! Magical Christmas Ballet. The acclaimed holiday tradition is LIVE in theaters for the 31th Anniversary tour. Gather friends and family to re-live your fondest childhood dreams, overflowing with larger-than-life puppets, breath-taking acrobatics and dazzling costumes. Experience the exquisite artistry of the international cast, featuring stars of Ukraine ballet, performing at the highest level of classical technique. Share in the message of Peace and Harmony with tickets in your city.
On this 31th Anniversary tour, an all-star, award-winning ensemble from Ukraine, Italy, Japan, Kazakhstan, Turkey, and more bring NUTCRACKER! Magical Christmas Ballet back to the stage.
Performances are throughout the U.S. - 24 states and over 70 cities. In New York, for example, there are performances in Rochester, Syracuse, Brooklyn, Albany, and Port Chester.
Save 15% on tickets in all price levels. To utilize this code, select your location and date using the link below. Look for the unlock button

near the upper right hand corner of the page. Click on the box and enter the Passcode TBA and click on Unlock. Then, select your seats and save.

Enter Passcode TBA
New code will be live again in October-November 2023