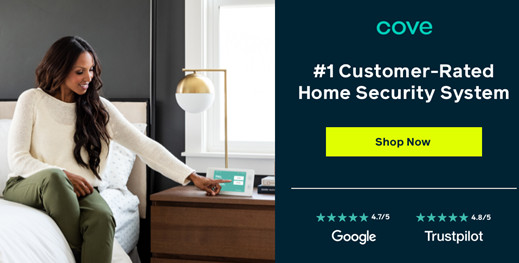 Cove
Click the link below to access your exclusive pricing for the #1 Customer-rated home security system by Cove.
Cove was also named the "Best Wireless Home Security System", "Best Home Security Systems", and the "Best DIY Home Security System" by U.S. News and World Report.
Why do Customers love Cove so much?
Our professional-grade touch-screen panel

Better professional monitoring with fewer false alarms and faster emergency dispatch

The easiest system to install and use - by far

Spectacular 24/7 Customer Support
We have what we believe the very best deal you'll find for Cove products (or any self-installed system anywhere). Up to $525 of equipment and 6 months of 24/7 professional monitoring for just $199! You can get The Cove Touch Alarm Panel and multiple cameras or sensors within that $525 price (you configure your system to your needs) plus the 6 months of monitoring (reg. $14.99 a month). We dare you to find a better offer than $199!

And a note from mBB: We endorse the COVE system over that of other competitors offering self-installed systems. In the interest of fairness, we offer our members access to discounts on SimpliSafe but it's NOT the system we recommend. Simpli-Safe does more advertising, a lot more, and that means you pay much, much more for SimpliSafe systems. We've evaluated Cove's systems and we can safely say that when comparing it to SimpliSafe:
Cove is easier to install

Cove is less expensive

Cove offers better monitoring and quicker dispatch