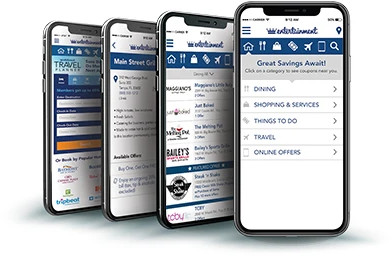 Entertainment.com
The Entertainment Book is now entirely digital - no more bulky books! And you save 20%! You can enjoy Entertainment digital with over 500,000 digital coupons wherever you are in the U.S. and Canada.
Digital memberships allow you to use it at home or while traveling and coupons may be redeemed online or via the Entertainment Coupons App. Take us wherever you go! The mobile app sends alerts to your phone and email for coupons near you!
New offers are added daily and available right away. We are adding over 600 new offers each month from 2-for-1 and up to 50% off discounts.
An Entertainment Coupons membership QUICKLY PAYS FOR ITSELF with over 500,000 digital coupons on dining, attractions, shopping, golf, travel, and more.
Would you like to preview Entertainment digital membership offers in your local area before purchasing? It's very easy:
Download the Entertainment app (with the blue crown) from the App store.

Click on Preview Offers.

Enter the email address of OOB@testcoupons.com

Start viewing offers


Regularly $24.99 for an Entertainment digital membership, mBB members, their families and friends can purchase a 1-year digital membership for just $19.99, a 20% discount. Click on the "Add to Cart" button below to order a membership for yourself or to give as a gift, pay with either a credit card or PayPal, and we'll email you your code to activate your membership - membership is good for 1 year from when you activate the code (not when you purchase from us).

For a limited time, a 1-year digital membership through mBB is only $15.99 - a 36% discount. Order one for yourself, give others as a gift. Offer valid for as long as our supplies left. Presently 4 editions available at this price.
Entertainment.com offers you this special price as a fundraiser for the charitable my Better Benefits. A portion of your purchase price is donated to mBB to support our activities on behalf of underprivileged children in the communities we serve. mBB is a 501(c)3 charitable organization.
If you are not interested in an annual membership, monthly memberships are only $2.99 a month. No commitment, cancel anytime. Click on the "Save Now" button below.

To Give as a Gift:
Purchase and have the membership codes sent directly to you (your email address). When you're ready, then forward to your gift recipient(s) the access code(s) + instructions for activating. It's that easy!