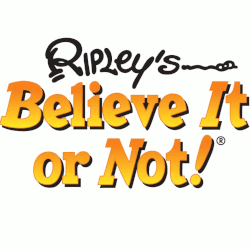 Ripley's Believe it or Not
Ripley's has locations all across the U.S. and Canada including NYC, Niagara Falls, Atlantic City, Toronto, Orlando, FL, Baltimore, MD and dozens more.
Ripley's indicates that the offers below are the best available to mBB members. They may or may not offer additional savings you might find elsewhere on the Internet. Combo tickets may be purchased online to any of Ripley's 20+ plus locations with savings of up to 37%.

Baltimore, MD
Branson, MO
Gatlinburg, TN
Grand Prairie, TX
Hollywood, CA
Key West, FL
Myrtle Beach, SC
Save up to $7 on Ripley's Believe It or Not! Odditorium in Myrtle Beach, SC

Save $2 off Skywheel + 1 Ripley's Myrtle Beach Attraction Combo!
New York, NY (Times Square)
Niagara Falls, Canada
Orlando, FL
Panama Beach, FL
San Antonio, TX
San Francisco, CA
St. Augustine, FL
Toronto, Canada