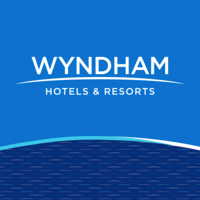 Wyndham Hotels & Resorts
Save up to 25% off the best rate where available.* We offer you choices so you may obtain the best rate available across different platforms.
These discounts are not available by calling an individual hotel directly but by booking either through Hotel Planner or Wyndham using the corporate code we provide below.

Hotel Planner: up to 65% off over 800,000 hotels, all brands including Wyndham
OR

Wyndham Corporate Partners. Guaranteed 20% off the best available online rate at 9,000 Wyndham brand hotels worldwide when you click on the logo above. When booking, enter your destination, dates, and then under the "special rates" pull down box select Corporate Code, enter 1000005930 and click DONE.
You'll be able to select not only from Wyndham Hotels & Resorts but ten other hotels in the Wyndham hotel group - all with a discount.
Wyndham Hotels include the following brands:
* The Wyndham discount is based off the Best Available Rate Plan on its website, which is the lowest unrestricted rate they offer. There may also be special short term promotional rates available. The mBB discount is not calculated off these rates. If a promotional rate is more favorable, you may book it. Most all promotional rates have restrictions that require 100% pre-payment, are non-refundable, and cannot be changed or cancelled.